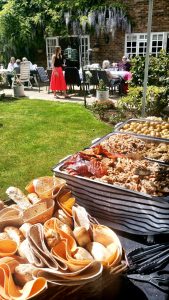 A warm welcome and hello from all of us here at Hog Roast Chard. Thank you for visiting us and we hope we can provide enough information for you to choose us for your next event.
Organising or hosting any occasion can be tasking at the very least. Anything from small house parties, to large scale birthdays, there is so many things that go into making it memorable. As for the catering, we are here to help lessen that load and take a huge hog-sized portion of the stress away.
Our experienced and gracious staff are available to enable you to put together a magnificent meal for your event that everyone in attendance will talk about for years to come. Our hog roast cuisine is remarkable to say the least, a statement supported by over 25 years of company experience. If you are looking to obtain a reliable and enthusiastic team to provide exceptional food and quality service, look no further than us here at Hog Roast Chard.
Your Event
There are a great variety of different events that people host these days, with a wide array of different people who attend. You can take comfort in the knowledge that for those who attend your day, our committed and enthusiastic staff are on hand to put their knowhow into the highest gear, taking care of them and the catering for the event leaving you to enjoy the company of those you invite.
So, what are you organising? We cater for many events, including the following:
Weddings – Say I do to your beloved and I do to Hog Roast Chard as we help you tailor a menu specifically for your special day. Your treasured guests will reminisce for years about how magical the day was, and how incredible and outstanding the food was. And just wait for the day the two of you catch a scent of someone else's hog roast, you will be taken right back to that amazing day.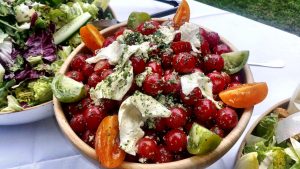 Charity/Commercial Events – Whether your company is honouring a successful retiree, or perhaps presenting a push for their latest fundraiser, we are here to provide our excellence and service to the proceedings. You will not have to worry about people failing to attend once you inform them who you have employed to cater the event. Our hog roasts can also be a brilliant conversation starter for people who may never have met from across a business as they share a superb feast.
Indoor/Outdoor Occasions – Big or small, under the roof or under the sun, we carry the equipment necessary to cater for your event. Our hog roasts carry a scent across the air that will have anyone not invited wishing they were. Enquire with our staff today to see how we can set up in almost any space that your venue offers.
Private Venues/Family Parties – Our mission is to provide the same quality of service whatever the size of your event may be. The equipment we use takes us a reasonably small amount of room meaning we can cater to almost any event. If it is a hog roast you wish for your soiree, please do not hesitate to be in touch with us, regardless of the size of your venue.
Equipment Hire from Hog Roast Chard
How about tackling the mighty hog roast yourself? Ask our staff today about hiring the equipment and being the chef for your very own event. We will take care of all the necessary details and arrangements, delivery everything you need and setting up the apparatus so you can serve your own guests. We will even give you a tutorial to make sure you know exactly what you will need to do. On top of this, we will deliver your hog along with any other food and ingredients you may have requested. We can also provide tables, chairs, and even gazebos if you wish. What's better, we will even come and collect it all when you are finished. Be sure to be in touch today and see how much we can do for you.